See on Scoop.it – ma veille d'optimisation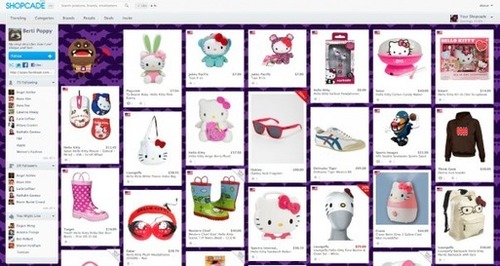 From official website:
« Shopcade is a social shopping application on Facebook that connects people to shop and recommend products together and get rewarded for it. You can shop trending products recommended by your friends and people you trust, as well as become a trendsetter by recommending products you love. Whenever you buy via others Shopcades, or others buy via yours, you both get rewarded. »
From review article on Search Engine Watch:
« …Think of Shopcade as the gender-neutral, retail version of Pinterest. Users can quickly and easily create themed boards to showcase their favorite products from a variety of e-retailers.
Nearly 260 million products are on Shopcade. That's a pretty impressive feat for a startup still in beta mode.
Perhaps one of the biggest advantages of Shopcade is the ability for consumers to shop through the clutter of the web.
Many shoppers are bombarded and overwhelmed with offers but aren't confident in merchants or even the product itself. On Shopcade, however, users can quickly identify sales and deals, while also seeing which members of their networks have acknowledged or recommended the product.
Users can also follow specific product categories, brands, and other users to totally personalize their Shopcade feed.
Additionally, users will earn cash for shopping. Anytime a product is purchased via Shopcade, users will receive a predetermined amount (which is shown to the user prior to the purchase).
If a product is purchased via another person's Shopcade account, that person will also receive the same amount… »
Check out Shopcade: http://www.shopcade.com
Read more:
http://searchenginewatch.com/article/2189714/Shopcade-Pinterest-for-Ecommerce
See on www.shopcade.com