See on Scoop.it – Marketing.Intelligence.Hub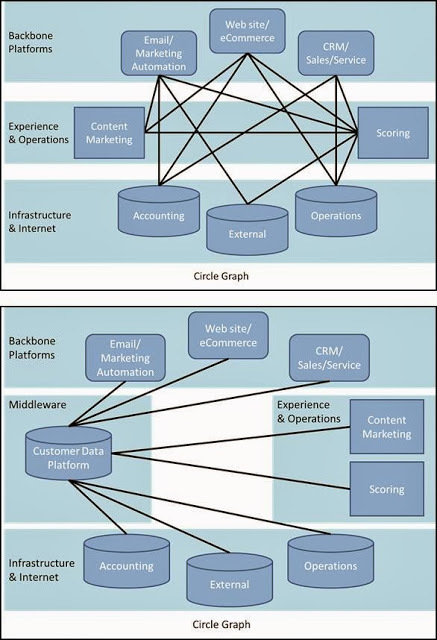 Advanced/ Excerpt…
Scott Brinker, a.k.a. chiefmartec*, last week published a terrific Marketing Technology Landscape Supergraphic organizing nearly 1,000 vendors into 43 categories and six major classes. As Scott modestly writes, his classes present "a semblance of meaningful structure" with Internet and Infrastructure providing the foundations, Marketing Backbone platforms (major channel systems) managing most interactions, Marketing Middleware (including Customer Data Platforms) providing a connective layer, and Marketing Experiences and Marketing Operations systems offering specialized capabilities.
Showing the actual connections between system pairs has another advantage: it lets you represent the architecture as a formal graph, meaning you can compare architectures using standard graph analysis techniques. Even just counting the connections gives a useful measure of relative complexity.
The diagrams above illustrate this nicely: the top picture shows the same architecture as before, which has 14 system-to-system connections (out of 28 possible pairs, another useful metric, even though some wouldn't make much sense). The bottom picture shows the same systems with everything connecting through a central database: now there are only eight connections and several missing system-to-system links have been provided automatically. If you want a crude approximation of how much a central database reduces complexity (and hence cost), this is good place to start.
See on customerexperiencematrix.blogspot.com